Hobby groups
Our kindergarten offers a rich program of afternoon circles: yoga, ceramics, baking and cooking, gardening, art or music, or animal assisted therapy.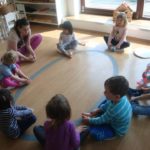 Yoga
Lessons of child yoga are different from yoga lessons for adults: children practicing in a playful way, talk stories, singing songs, playing on animals, plants, trees and so on. The lesson is always adapted to the needs of children and their age. We practice dynamically, without long-lasting terms and mainly so that yoga would be more entertaining game.
---
Ceramics
Children will learn to work in a ceramic workshop, practice their fine motor skills, freely forming from clay, and grow their artistic feeling. All products we burn in a ceramic furnace and children can take them home.
---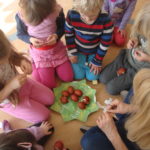 Baking and Cooking
In this circle children learn the difference between food and raw materials, recognizing flavors and fragrances. We start with cold dishes and we will learn how to cut and peel how to prepare various salads. Then try to cook simple meals from Czech and international cuisine. We will learn the differences between various types of meat will talk something about preparation, cooking sauces and even learn to make homemade pasta till the end of the education.
Finally comes the baking: biscuits, cookies and simple cakes, muffins and other goodies, will try the marzipan modeling as well. In addition, we will try to bake homemade bread and decorating cakes for celebrations. Throughout all this, we learn how to set the table neatly and nicely dine.
---
Art Club
In a variety of creative activities children learn the art materials and techniques through games and creative experiments. Parts of the "creation" are fine skills and exercises that help children acquire basic skills and good habits to practice writing.
---
Musical circle
It is not about teaching music, but a common experience: knowledge of music in help to shared experience of the world of sounds, tones, rhythms and melodies of music and music therapy games. Getting familiar with concepts such as note, treble clef, etc. Playing on Orff instruments and musical movement games and rhythm games – mirroring, simple dance, improvisation, singing, relaxation, dance preparation for full of movement, exercise and antics.
---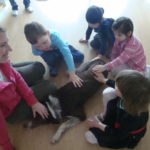 Animal assisted therapy ( Canistherapy)
This therapeutic method originally contributes to the emotional development of children; direct contact with a friendly animal satisfies their need to express tenderness. When learning new things in the company of dog, the child overcomes the fear and gains a sense of security. When observing the behavior of the dog and his body structure a child develops observation skills and good habits of behavior towards animals and people. The child becomes the person who creates and orders the dog tasks: in such a way children develop their mental and speaking abilities and communication skills. Caring for a dog develops in children a loving relationship with nature and the environment, thoughtfulness and respect for life.
---